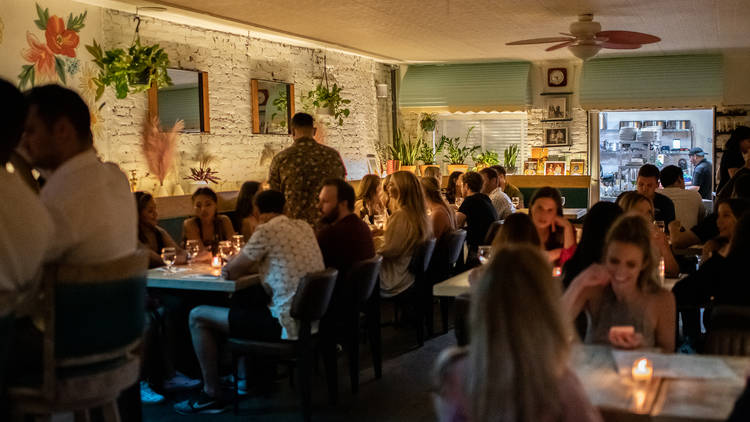 Photograph: Courtesy of Christian Koerwer
Please every palate without the unending group chat.
Written by Amber Sutherland-Namako Wednesday April 27 2022
Groups! Can't live with 'em, can't live a blissfully solitary existence out in the woods without ending up on some kind of government watch list. Ok, maybe some can (and, if you're reading this, Jerry, why do you even have internet out there?), but those of us still in NYC will inevitably need to find restaurants perfect for large parties celebrating birthdays, anniversaries, big promotions, belated or pre-lated holidays and general getting the band back together events.
Manhattan, Brooklyn, Queens, the Bronx and Staten Island each have options for your next fête, and these are our favorites for those expanded occasions. Most allow you to book space for up to six via conventional platforms, save for noted exceptions that go up to about ten, and all have room for more when you connect via email or phone.
Group dining in NYC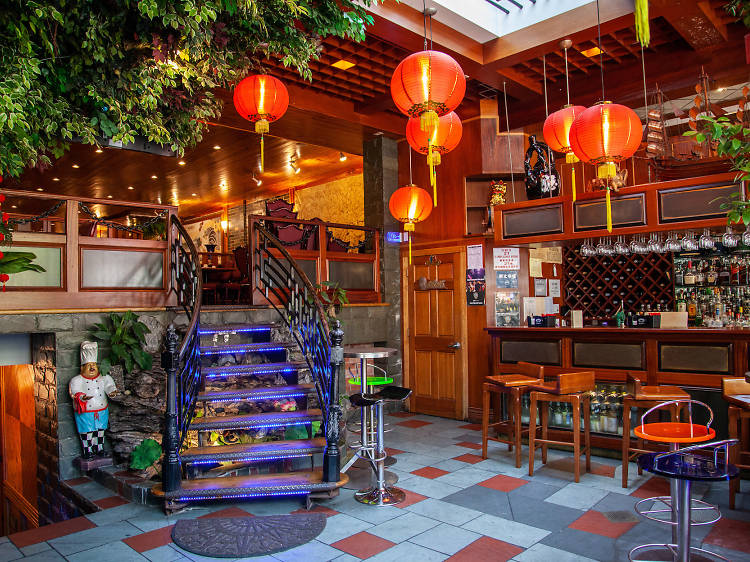 Restaurants
Chinese
Lower East Side
price 2 of 4
A classic of the group dining genre, Congee Village has been delighting disparate tastes downtown for more than twenty years. It has several sprawling spaces, a tome of Cantonese dishes and fun cocktails in a jubilant environment.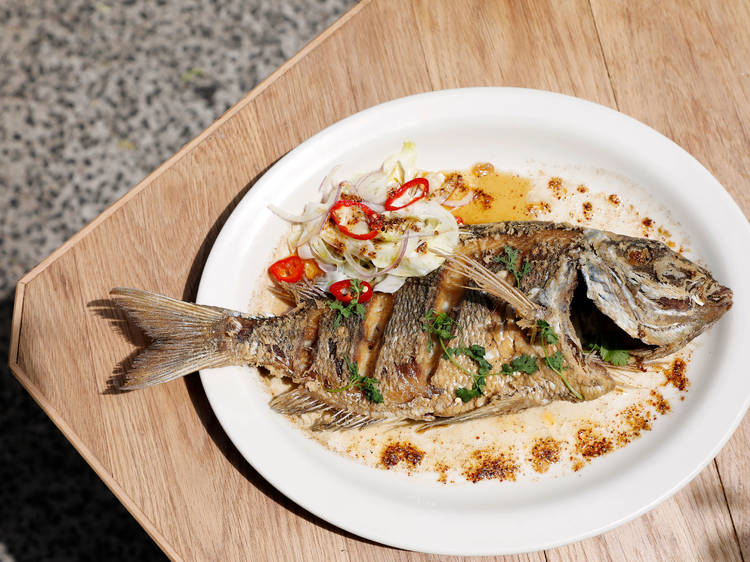 Photograph: Courtesy Belathée Photography
Restaurants
Prospect Heights
Lovely Leland Eating and Drinking House slyly offers dining several ways between its patio seats, covered "cozy cabin" structures, bar and two adjacent dining rooms. Up to seven people will enjoy excellent à la carte menu items like trout rillette, mushrooms on exceptional house made sourdough and an aged and brined half chicken, grilled pork chop, and whole fried fish in whichever configuration you choose. Parties of eight or more receive a set menu.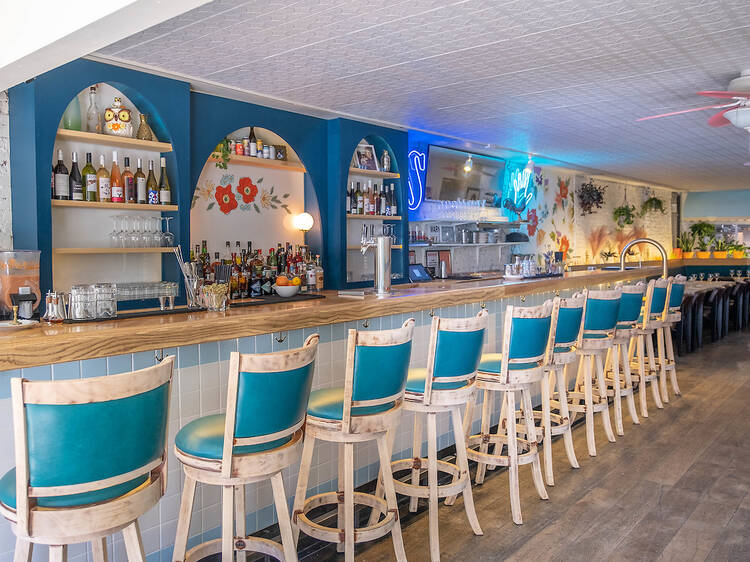 Photograph: Courtesy of Nick Solares
Lively Sidney's Five feels like a party without all the pesky introductions, with better food and drinks. This Time Out New York Best of the City award winner, which was also one of NYC's best new restaurants of 2022, has a long bar up front and a banquette in the back that can be configured for larger parties. Start with martinis and be sure to order plenty of andouille corn dogs for the table.
Restaurants
Seafood
Astoria
price 2 of 4
Elias Corner "for FISH," as it's styled on the restaurant's awning, is all emphasis all the time, including its famous "NO MENUS" practice. Instead of perusing the written word, your party will peep the seafood case up front and/or simply sit down and ask whether there's shark or salmon or whatever until you land on a fresh availability. Somewhat simple preparations let impeccable products shine, the atmosphere is inviting in spite of all the caps and there's a nice elevated patio outside. 
https://www.instagram.com/p/Bq5PDtaD2qY/embed/?cr=1&v=14&wp=540&rd=https%3A%2F%2Fwww.timeout.com&rp=%2Fnewyork%2Frestaurants%2Fgroup-dining-in-nyc#%7B%22ci%22%3A0%2C%22os%22%3A521.5%2C%22ls%22%3A132.20000000298023%2C%22le%22%3A445.29999999701977%7D
Restaurants
Mexican
Park Slope
Reserve up to 9 people with just a few clicks for this large corner spot in Park Slope. It is, as you might expect, awash in blue hues and handsomely appointed inside with large seating areas outside. The super satisfying menu includes perfectly prepared guacamole with hand-cut tortilla chips, tacos and large plates of enchiladas, carne asada and barbacoa
Restaurants
Contemporary European
West Village
Thanks to its eclectic menu and homely, laidback vibe, this adorable corner cafe on Morton Street is the perfect place to schlep to for a hungover…
Venue says: We are temporarily closed, but hope to resume operations and see you all soon!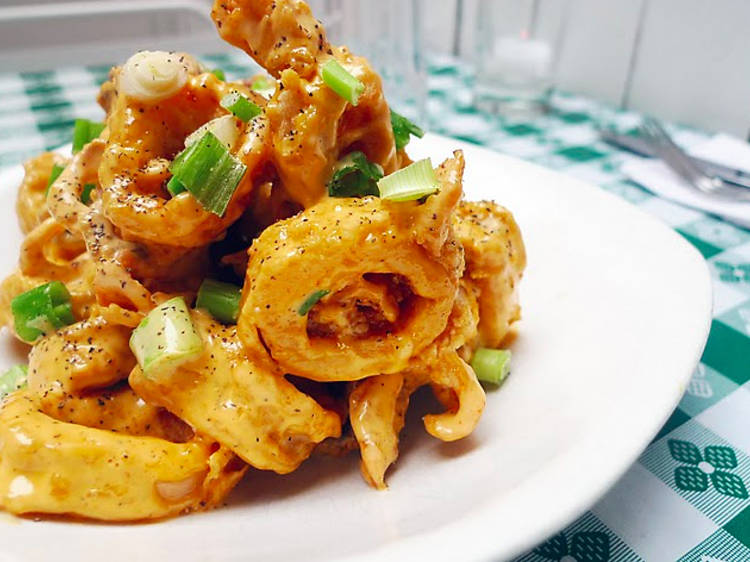 Restaurants
Italian
Lower East Side
price 2 of 4
There's something about brunch spots that lend themselves to larger parties, and Tre has been at the top of its class for fifteen years. It also does a terrific dinner with space for plenty of friends at either hour. Book early on the weekends for wonderful pancakes, eggs any way, pasta plates and daytime tipples, or in the evening for even more noodles, plus mains like chicken Milanese, grilled skirt steak and a great wine list.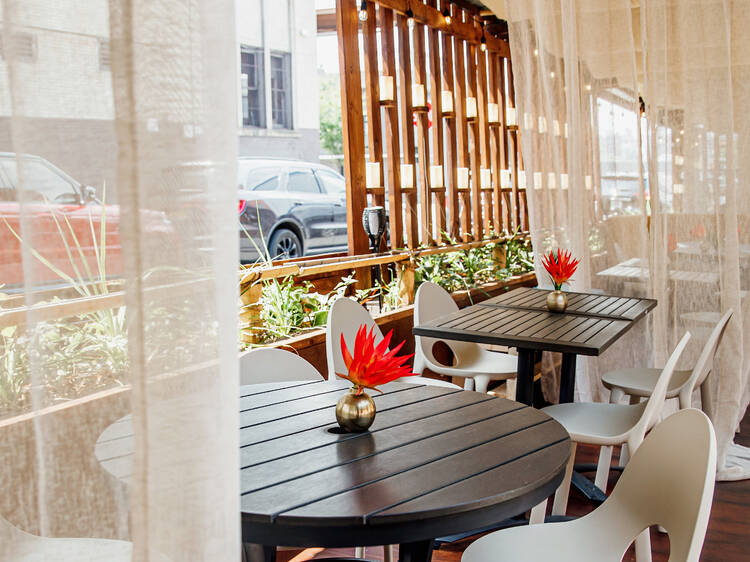 Photograph: Courtesy Katrine Moite/Kokomo
This Caribbean restaurant with a Time Out New York Best of the City award for its outdoor seating arrangement has plenty to recommend it, and its ability to accommodate up to ten guests via regular reservations is one reason it's been a favorite since it opened in 2020. There are also plenty of plates to mix and match, like oxtail flatbread, jackfruit tacos, jerk chicken, burgers and pasta.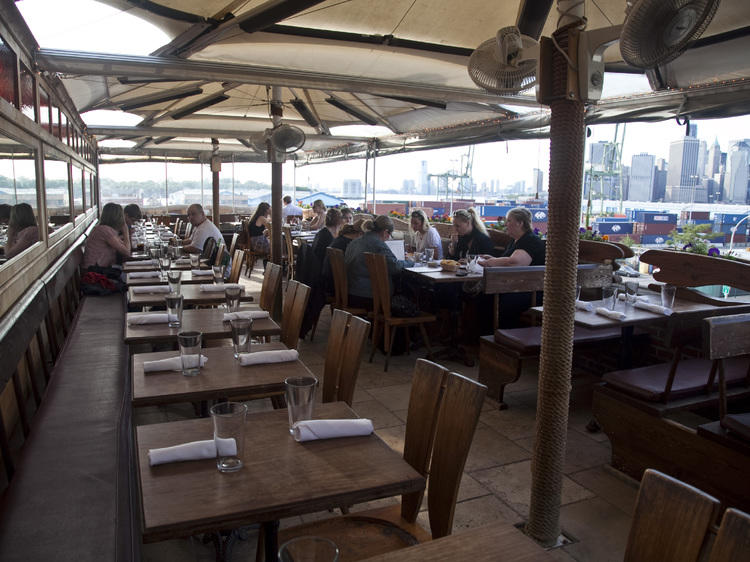 Restaurants
Mexican
Carroll Gardens
price 1 of 4
Two floors of views boast plenty to see at this Columbia Waterfront District staple. The downstairs dining room is actually one flight above street level, with a rooftop another staircase above. Chilaquiles, enchiladas and several types of tacos are available across each, in addition to some of the best frozen drinks in NYC.
ADVERTISING
Restaurants
South Asian
Staten Island
price 1 of 4
The Sri Lankan cuisine at Lakruwana has been delighting diners for a quarter of a century. The restaurant got its start in a small Manhattan space in 1995 before eventually relocating to Staten Island. Visit for tasty lamprais and kottu inside or out at its fetching corner space. https://www.instagram.com/p/CMaBcP3BWux/embed/?cr=1&v=14&wp=540&rd=https%3A%2F%2Fwww.timeout.com&rp=%2Fnewyork%2Frestaurants%2Fgroup-dining-in-nyc#%7B%22ci%22%3A2%2C%22os%22%3A525.2000000029802%2C%22ls%22%3A132.20000000298023%2C%22le%22%3A445.29999999701977%7D
Recommended
Restaurants
Jackson Heights
Assemble your entire court at The Queensboro, which can easily accommodate each of your friends-in-waiting and satiate their varied tastes. The space is equal parts rustic and chic, with roomy booths, banquettes and a long line of bar seats should you need abscond for a private shot. The Queensboro's menu is frequently updated, but expect items like oysters, burgers, steak, pizza and pasta. https://www.instagram.com/p/CaufUXdMwIQ/embed/?cr=1&v=14&wp=540&rd=https%3A%2F%2Fwww.timeout.com&rp=%2Fnewyork%2Frestaurants%2Fgroup-dining-in-nyc#%7B%22ci%22%3A3%2C%22os%22%3A1408.7999999970198%2C%22ls%22%3A132.20000000298023%2C%22le%22%3A445.29999999701977%7D
ADVERTISING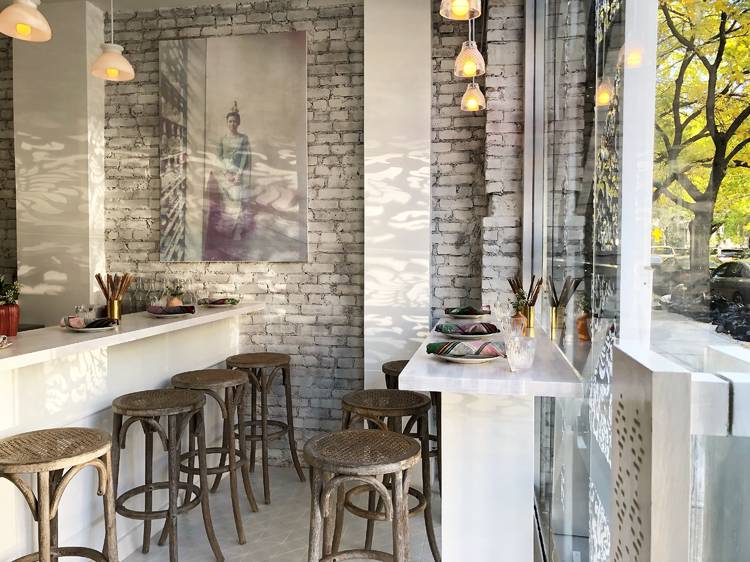 Restaurants
Burmese
Crown Heights
One of our favorite restaurants of the year when it moved from a pop-up to a permanent location in 2020, Rangoon is still a go-to for Burmese cuisine in Crown Heights. Its terrific ginger pork meatballs, garlic noodles and wide variety of curries are served in dual outdoor areas, and in a back annex to its dining room that's particularly well suited to larger parties. Rangoon also lets you book reservations for up to ten via its standard platform.
It's easy enough to share varied items between just one couple at this fantastic, photogenic Ethiopian restaurant, so imagine the flavor opportunities when you multiply that party by a few. It will only take a visit or two to sample all of Ras Plant Based's delicious menu items like mushroom tibs and tofu dishes with expertly prepared injera, but you'll keep coming back in any case. https://www.instagram.com/p/CNfOfN_D_zY/embed/?cr=1&v=14&wp=540&rd=https%3A%2F%2F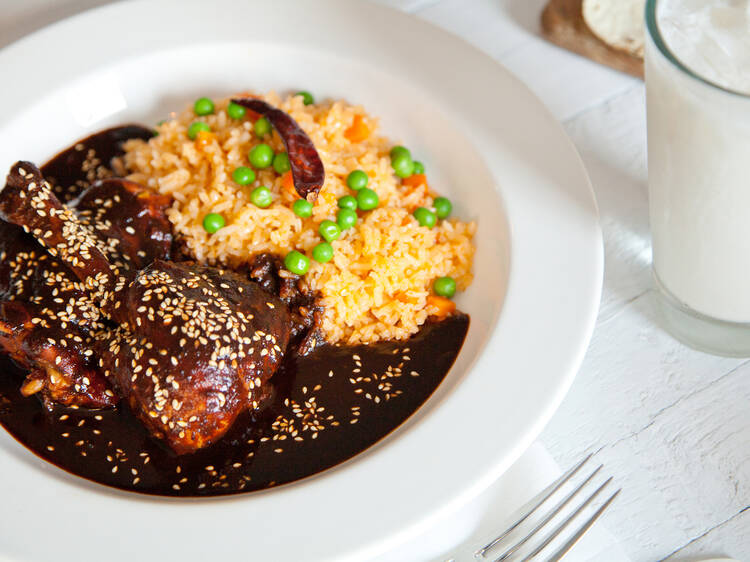 Time Out, Photograph: Dominic Perri
Restaurants
Mexican
Long Island City
price 2 of 4
Top NYC Mexican restaurant Casa Enrique has been collecting accolades since 2021. Its since added outdoor dining to its spacious interior, and your group can choose from highly ranked menu items like guacamole with housemade totopos, ceviche, several types of tacos, enchiladas and specialties like pozole and mole de piaxtla. The long cocktail list includes several fun frozen fruit margaritas.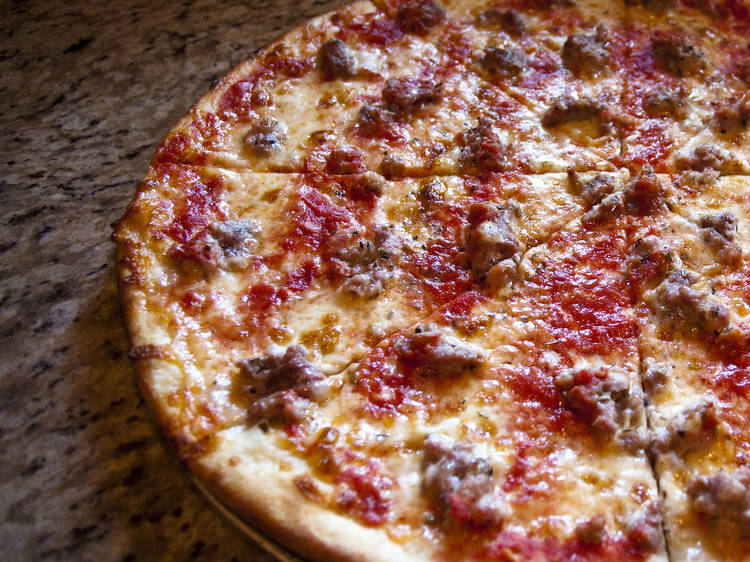 Restaurants
Pizza
Staten Island
price 1 of 4
One of NYC's best pizza spots for close to 100 years, Denino's is also especially adept at hosting families and friends for affairs where only a pizza party will do. In addition to its fan favorite pies, tons of fried apps like calamari and mozzarella, wings, salads and huge sandwiches are all on the menu.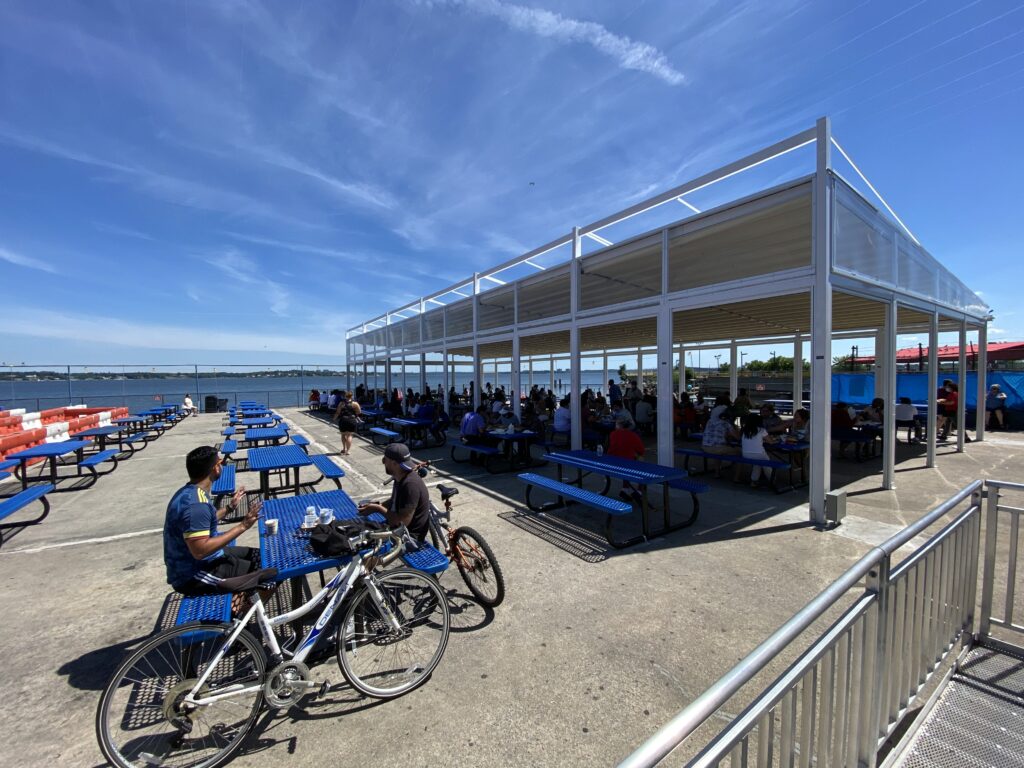 Restaurants
Seafood
The Bronx
price 1 of 4
As we've established, some of these group destinations can accommodate larger groups via their typical booking mechanisms, and some require a phone call or email to secure greater numbers of seats. At Johnny's Reef, you'll need designated personnel to scope out the picnic tables on its large outdoor patio while the rest of the group orders oysters, clams, shrimp, lobster tails, crab and frog legs inside. Bring that dedicated spotter an extra beer or frozen drink for the trouble and everyone will enjoy the soothing seaside view.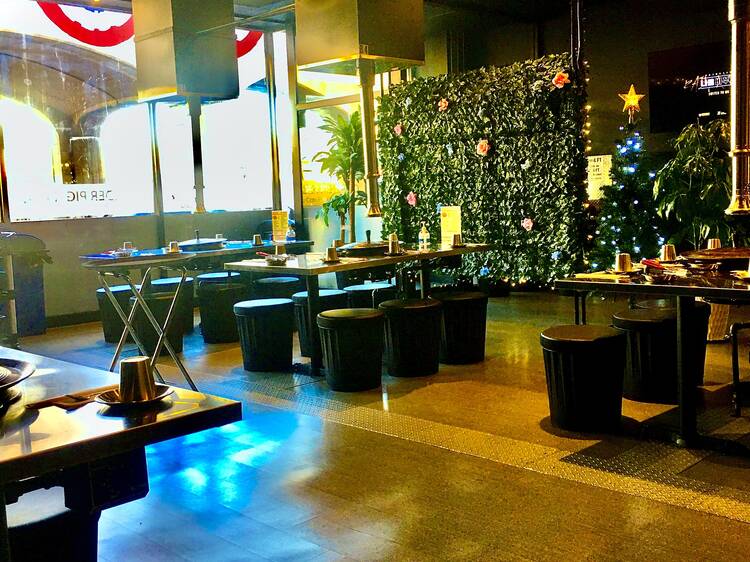 Photograph: Courtesy of Amber Sutherland-Namako
Korean barbecue is always a sensational solution to group dining, given the myriad palate pleasing selections to toss on the grill. We love this Sunnyside spot for those oodles of all you eat options in a cavernous space that rings out with K-Pop tunes from an abundance of flatscreens. Gather your pals, jam your stuff in the hollow stools unless you covet that sweet meat perfume and institute a soju toast to your good taste and choices.